Sunday, February 24, 2019 at 7:00PM - International Guitar Night -
Featuring French guitar duo Antoine Boyer and Samuelito

Herbst Theatre 401 Vaness Avenue, San Francisco, CA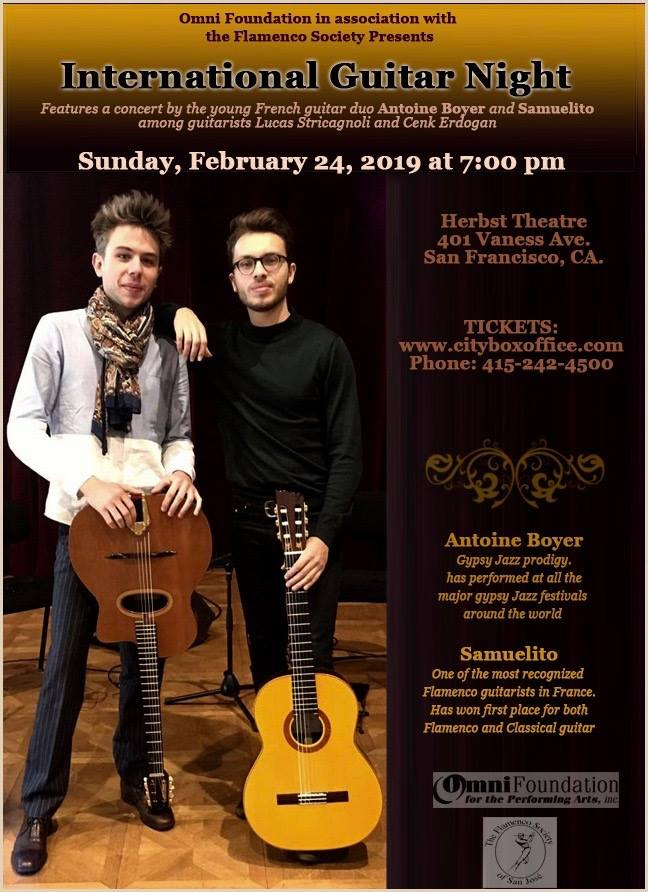 Omni Foundation in association with The Flamenco Society.
Features a concert by young French guitar duo Antoine boyer and Samuelito among guitarist Lucas Stricagnoli and Cenk Erdogan.
Antoine Boyer - Gypsy Jazz prodigy has performed at all the major gypsy Jazz festivals around the world.
Samuelito ~ One of the most recognized Flamenco guitarists in France has won first place for both Flamenco and Classical guitar.
TICKETS: www.cityboxoffice.com
Phone: (415) 242.4500
Antonio Rey & Mara Rey
Friday, March 1, 2019 at 7:30PM ~ Mountain View Center for Performing arts, Mountain View, CA

Saturday, March 2, 2019 at 6:30PM ~ LaPena Cultural Center, Berkley, CA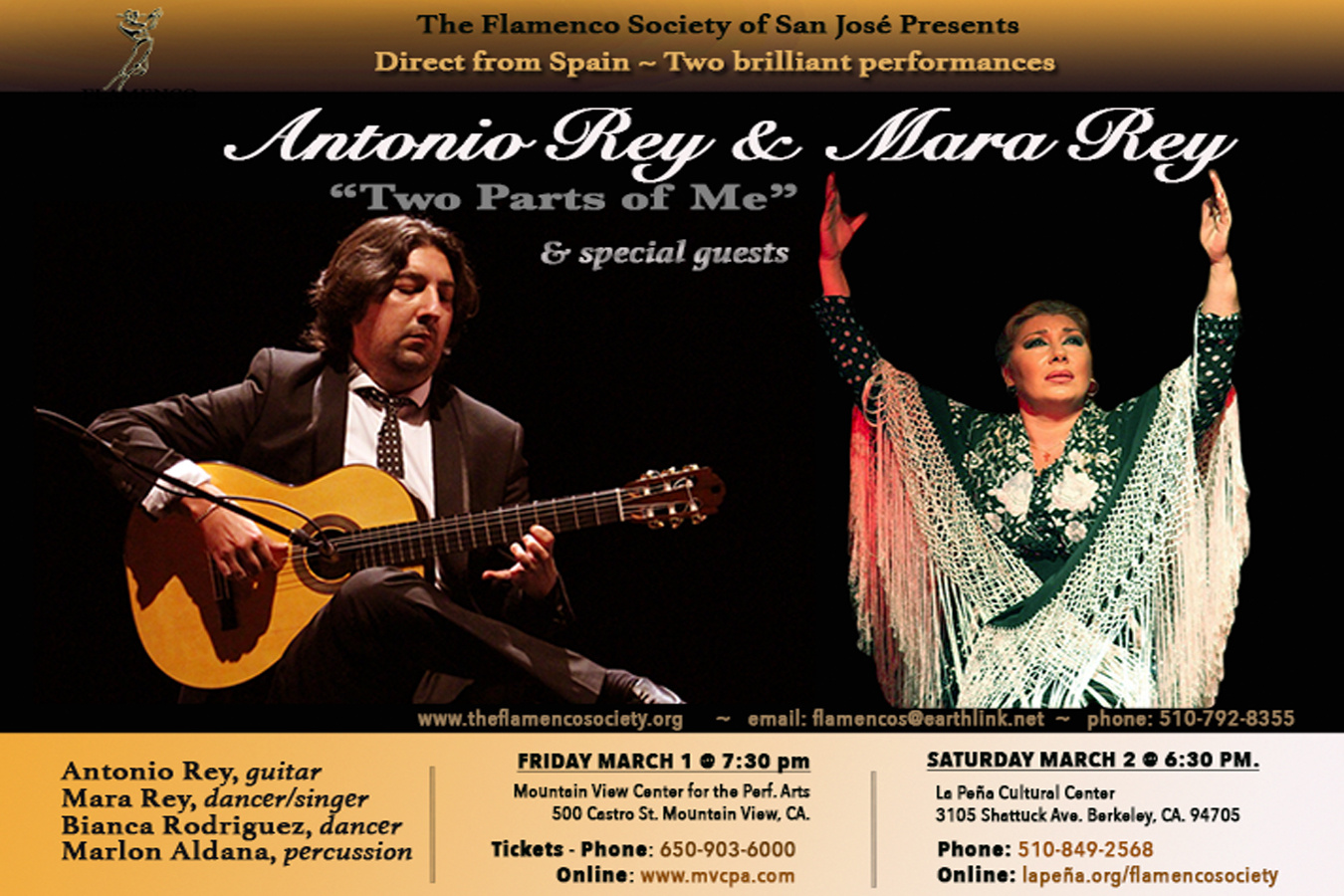 Direct from Spain!

Antonio Rey who undoubtedly is one of the greatest Flamenco guitarists of his generations!
Antonio presents his latest release "Two Parts of Me", Along with the amazing Mara Rey who has worked as Flamenco dancer and singer with great Flamenco figures. This powerful performance combines both, the influential force of Antonios flamenco guitar and Mara's stunning voice! Showcasing Bianca Rodrigues, dance and Marlon Aldana, percussionist.
TICKETS: Mountain View C.P.A. performance: (click on link below)
https://tickets.mvcpa.com/eventperformances.asp?evt=275
Phone: (650) 903.6000
La Peña Berkeley Performance
https://lapena.org/event/flamencosociety2019/
phone: 510-849-2568
Antonio Rey has been Awarded with the "Premio Nacional de Guitarra" award, along with names like Paco de Lucia and Vicente Amigo who have also won. His concerts are considered by both music experts and public ~ of an extraordinary quality, combining on-stage power and musical sensitivity with a great charisma
`Masters of the Guitar-online review

TRIP TO JEREZ SPAIN!
SOLD OUT!!

A Seven Day Flamenco Tour Event
Want to Experience the Art of Flamenco in Jerez, Spain?
The Flamenco Society of San Jose, is proud to present a Tour to study Flamenco in Jerez, Spain!
FLAMENCO WORKSHOPS

Dance (Cante) Song ~ (Palmas) Hand clap
A chance to learn from some of the best Flamenco Artists in Jerez!
Visit various Flamenco sites, Flamenco Performances

and Sherry Wine Cellars!
For more information contact:
Phone: (510) 792.8355
Email: flamencos@earthlink.net
www.theflamencosociety.org